Santa Meet & Greet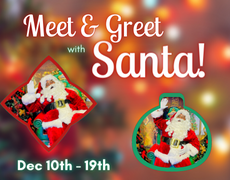 Santa is coming back to the Sandrell Rivers Theater, and he's bringing the North Pole with him!
Meet Santa for FREE but be sure to get your tickets for Pictures and Holiday Treats! Don't miss out on TWO full weekends of Meet and Greets with the Jolly Man himself!
Show more >>
Parking Garage: 6104 NW 6th Ct. Miami, FL 33127
Tickets: FREE ENTRY.
Photo: $7
Photo, Cookie & Hot Chocolate: $10
Website: tickets.ftfshows.com
COVID-19 Protocol & Practices: Read more
ADA Accommodations: It is our policy to comply with all of the requirements of the Americans with Disabilities Act. To request materials in accessible format, and/or any accommodation to attend any Fantasy Theatre Factory event, please contact Evelyn Sullivan, 305-284-8800, evelyn@ftfshows.com, at least five (5) days in advance to initiate your request, TTY users may also call 711 (Florida Relay Service).
Sponsors: This program was made possible with the support of the Miami-Dade County Department of Cultural Affairs and the Cultural Affairs Council, the Miami-Dade County Mayor and Board of County Commissioners, the Broward County Cultural Division, sponsored in part by the State of Florida, Department of State, Division of Arts and Culture and the Florida Council on Arts and Culture, and the National Endowment for the Arts.
Location
Sandrell Rivers Theater 6101 NW 7th Ave Suite 79, Miami, FL 33127 (Map)
Contact Information
Rommel Arellan-Marinas
305-284-8872