Anoushka Shankar
Sunday, Mar 17, 2019 at 7:00 PM - English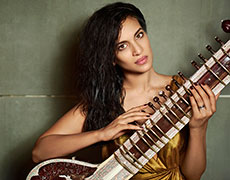 Tickets are $30-$65, $80 VIP and can be purchased online or by calling the Box Office.
Daughter of Ravi Shankar and sister of Norah Jones, Anoushka Shankar is one of the greatest living torch-bearers of the Indian classical tradition. Her father was one of the most famous and influential Indian musicians of all time. He famously taught The Beatles to play the sitar, the Indian instrument that he was one of the world's foremost masters of. The sitar went on to be featured on many of The Beatles' songs. With this and famous appearances at The Monterey International Pop Festival in 1967 and subsequent decades of concert appearances and releases in the West and around the world, Ravi Shankar, arguably more so than any other figure, helped to popularize Indian classical music in the West and outside of India.
Show more >>
Anoushka studied sitar under her father from a very young age and has gone on to master the instrument and also expand her musical horizons to become of the best living musicians in the world, in her own right. A singular world music pioneer, Anoushka Shankar as a musician and composer has expanded her famous father's legacy of crossing cultural and musical borders, with six Grammy nominations and collaborations with the world's leading classical orchestras and pop artists as diverse as Sting, M.I.A., Herbie Hancock, and her sister Norah Jones. Accompanied by a stellar quintet for this performance, Shankar returns to her roots with an intimate concert of meditative Indian classical ragas.
Artists:
Anoushka Shankar – sitar
Ojas Adhiya – tabla
Pirashanna Thevarajah – mridangam
Ravichandra Kulur – flute
Danny Keane – cello and piano
Kenji Ota – tanpura
Location
South Miami-Dade Cultural Arts Center 10950 SW 211 ST, Cutler Bay, FL 33189 (Map)