Baroque Meets Jazz
Sunday, Apr 7, 2019 at 3:00 PM - English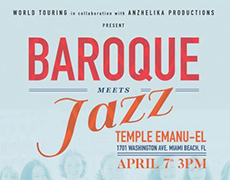 Canadian virtuoso clarinetist Julian Milkis, and the Russian Ensemble Siberian Virtuosi together in their collaboration, bringing an international flavor to the program "Baroque Meets Jazz" as part of their American tour with other performances on the East Coast, and Midwest. Vibrant, colorful and mood-filled works from the baroque to classical and jazz genres by such masters as Johann Sebastian Bach, George Frideric Handel, Pablo Sarasate, Franz Schubert, Pyotr Ilyich Tchaikovsky and Gioacchino Rossini, to Antonio Bazzini, George Gershwin, and modern composers, including Hyman, Piazzolla, and Benny Goodman, among others, are arranged especially for Julian Milkis and the Siberian Virtuosi.
As a special bonus, Rabbi Marc Phillipe of Temple Emanu-El will perform along with the ensemble. Rabbi Marc Philippe has been a citizen of the world since childhood, having grown up on four continents. Beyond his role as Temple Emanu-El's spiritual leader, Rabbi Marc Philippe is a cantor, musician, composer, and conductor. Studying at Paris' prestigious Ecole Normale de Musique, he earned a Masters Degree and later received a second degree at the Conservatoire Maurice Ravel. During the same period, he was a student at the Institutions Talmudiques Yeshiva Yad Mordechai. Rabbi Philippe honed his cantorial skills as a conductor at the Consistoire Israelite de Paris. He then served the Choeur et Orchestre Philharmonique Européen, Orchestre Paris Pops and the Orchestre de I'lle de la Cite in various professional capacities.
A VIP reception with a meet and greet with Julian Milkis and the Siberian Virtuosi from Russian will immediately follow the performance.
Location
Temple Emanu-El Synagogue 1701 Washington Avenue, Miami Beach, FL 33139 (Map)