Tuesday Night Jazz Fix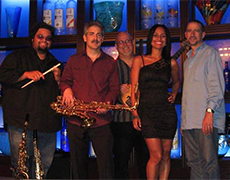 Mister K band: Steve Kirkland on sax, Hal Roland on keys, Nicky Orta on bass and Abner Torres on drums! AWESOME!
Lots of free parking, and NO COVER!
The food is great (Happy Hour prices until 8:00 p.m.), the service wonderful, no cover, and the JAZZ IS FROM ANOTHER PLANET!
A few things about Blue Martini. It is a very sophisticated, high-end club with plenty of room, good food, beautiful waitresses, and very nice accommodations. It is a great place to bring a special date or hang out with a group of friends. You can sit in many different areas all with a view of the stage and excellent sound. You can grab a "front row seat" or sit at a distance away where you can listen and talk with your friends. However, please remember that is is a 21 and over club!
Location
Blue Martini Kendall Town & Country Mall: 8405 Mills Dr. #204, Miami, FL 33183 (Map)