Double D's! A Drag Revue and BINGO!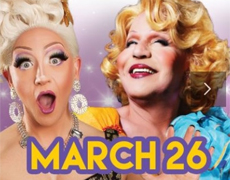 SPECIAL ENGAGEMENT: Famed female impersonators Electra and Cacophony Daniels present a wildly entertaining revue celebrating the world's most fabulous divas!
Courter Simmons (Cacophony Daniels) is a musical theater powerhouse who has appeared on Broadway in Jersey Boys and in musicals across the country! You'll remember him from his stellar performances in Ihe Wick Theatre's Beauty and the Beast, Singin' in the Rain, The Drowsy Chaperone, and Funny Girl. When not performing in musical productions, he dons his alter ego Cacophony Daniels as the co-star of New York's most popular weekly Broadway-themed drag show, Musical Mondays at the famous Hardware Bar.
Show more >>
Jim Buff (Electra) is a legendary female impersonator who began with a friend's dare on Halloween 1977 and has since become a member of American drag royalty. Currently, he is one of the most sought-after female illusionists in the business. Through the years, Electra has received numerous titles and awards for design and performance. Her impersonations are wildly applauded and have often made the real stars do a double-take! It's no wonder the Sun Sentinel has called her "The Man of a Thousand Ladies!"
(This special engagement is not part of the Wick Theatre Concert Series package)
Location
The Wick Theatre & Costume Museum 7901 North Federal Highway, Boca Raton, FL 33487 (Map)
Contact Information