10th Annual Mango Writers Conference
Saturday, Feb 8, 2020 from 8:30 AM to 4:30 PM - English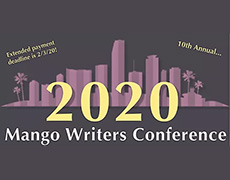 The South Florida Writers Association (SFWA) will host its 10th Annual Mango Writers Conference. Cost is $50 a person for students, $60 for SFWA members and $75 for non-members. Registration deadline has been extended until February 3, 2020.
To register, visit website.
There will be a catered breakfast and lunch, snacks, speakers and raffle prizes. This year's agenda includes a diverse lineup, featuring local published authors and industry experts, speaking on an array of subjects pertinent to writers in every phase of their manuscript.
The full schedule includes Attorney Allen Bennett, authors Mary Greenwood, Yolanda Ledesma, Nina Romano, Marsha Sims and Lori Swick, as well as Professor Andrew Strycharski.
Location
Miami Springs Golf and Country Club 650 Curtiss Parkway, Miami Springs, FL 33166 (Map)