MOCA Moving Images: PARACAS
Wednesday, Jan 22, 2020 from 7:00 PM to 9:00 PM - English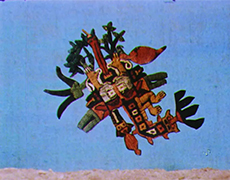 The Museum of Contemporary Art North Miami (MOCA) is pleased to present a screening of Cecilia Vicuna's 1983 film, PARACAS, on Wednesday, Jan. 22, 2020. The screening will be followed by a presentation by Dr. Constantino Manuel Torres on anthropology, shamanism, and the pre-Colombian Paracas culture of the Atacama Desert.
In the film PARACAS, Vicuna animates a 2000-year-old pre-Columbian textile created in the Paracas/Nazca region of Peru. Figures from the ancient textile come to life to perform an imagined ancient ritual in a miniature world created by the artist, set in the poetic universe of a desert transformed into a garden by its ancient inhabitants. Original music was composed and performed specifically for this work by Jose Perez de Arce and Claudio Mercado, with chants by Vicuna. The original Paracas textile is in the collection of the Brooklyn Museum.
Show more >>
Following the film, Dr. Constantino Manuel Torres will speak on the topic of on anthropology, shamanism, and the pre-Colombian Paracas culture of the Atacama Desert. Dr. Constantino Manuel Torres, Professor Emeritus, Art and Art History Department at Florida International University, Miami, has conducted research on the connection between iconography and visionary plant use in ancient cultures of the South Central Andes since 1982. He co-authored "Anadenanthera: Visionary Plant of Ancient South America" (2006), a 4,000-year history of the use of this sacred plant, which led to the study of ayahuasca analogues in South American antiquity. He has been the recipient of four Fulbright Fellowships.
The first major U.S. solo exhibition of influential Chilean-born artist Cecilia Vicuña, "About to Happen" is currently on display at MOCA and traces Vicuña's career-long commitment to exploring displaced materials, peoples, and landscapes in a time of climate change. It is comprised of Vicuña's multidisciplinary work in performance, sculpture, drawing, video, text, and site-specific installations created over 40 years. Vicuña was recently recognized as a finalist of the 13th Hugo Boss Prize, which celebrates the work of remarkable artists whose practices are among the most innovative and influential of our time. The exhibition is co-curated by Andrea Andersson, The Helis Foundation Chief Curator of Visual Arts at the CAC, and Julia Bryan-Wilson, Associate Professor, University of California, Berkeley.
"Cecilia Vicuna: About to Happen" and Alice Rahon's "Poetic Invocations" are on view at MOCA through March 29, 2020.
Location
Museum of Contemporary Art, North Miami 770 NE 125th Street, North Miami, FL 33161 (Map)
Contact Information