Orchestra Miami Happy Hour Concert
Friday, Oct 2, 2020 from 6:00 PM to 7:30 PM - English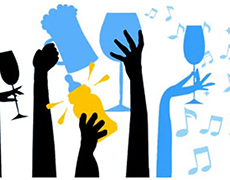 Orchestra Miami invites you to their Virtual Happy Hour Concert on Friday, October 2nd at 6pm! This free, virtual performance will feature Mei Mei Luo, violin, Chris Glansdorp, cello and Elaine Rinaldi piano. You can tune-in to the Happy Hour LIVE via Zoom or catch the performance on Facebook Live.
Mei Mei Luo, born and raised in China during the Cultural Revolution, began her musical studies at the age of five on the piano, and started studying the violin at the age of eight. Formal studies followed with teacher Tan Shu Zhen at the Shanghai Conservatory where Ms. Luo graduated with a B.A. in music. Mei Mei currently is the Concertmaster for Orchestra Miami, the Symphonia and Opus One, the orchestra for Miami City Ballet, and holds positions with the FAU chamber soloists and Palm Beach Chamber Music Festival. Elaine Rinaldi, Founder and Artistic Director of Orchestra Miami, is a Miami native who has chosen to return home and reinvest in her community. Under her artistic supervision and direction, Orchestra Miami has performed high quality classical music concerts to literally thousands of people through its annual Free Outdoor Concerts and introduced over 25,000 school children to classical music through its collaboration with the MDCPS Cultural Passport Program and In-School Performances. Critics have called her work "absolutely exceptional" (El Nuevo Herald).
Cellist Christopher Glansdorp began studies in Pittsburgh, Pennsylvania in 1975. After receiving performance degrees from the Eastman School of Music and the University of Akron, he joined the New World Symphony in Miami Beach, Florida. As co-principal cellist for three years, Chris performed on their tours of Japan and the United Kingdom and their first three CD releases. Chris currently plays as Principal Cello with the Palm Beach Opera Orchestra, the Symphonia Boca Raton, and the Kravis Center Pops with Michael Feinstein, as Assistant Principal with the Atlantic Classical Orchestra, and section cello with the Southwest Florida Symphony Orchestra. Remember to join us next week for another Virtual Happy Hour performance with Orlando Forte, violin and Elaine Rinaldi, piano.
Location
Virtual Event Virtual event, Miami, FL 33133 (Map)
Contact Information
Elaine Rinaldi