MOAD Presents The Body Electric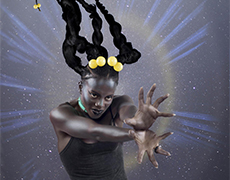 The Museum of Art and Design (MOAD) at Miami Dade College (MDC) presents The Body Electric, a major exhibition that looks at our fraught relationship to technology, particularly the increasingly inescapable interface between our bodies and screens. The remarkably varied art in the exhibition examines the last 50 years of artists addressing the way technological mediation has come to dominate our interactions with the world, with each other, and with ourselves.
In an age dominated by digital technology, The Body Electric explores themes of the real and the virtual, the organic and the artificial, moving from the world into the screen and back again. The exhibition presents an intergenerational and international group of 55artists and collectives that have seized upon the screen as a place to rethink the body and identity, with a particular emphasis on questions of gender, sexuality, class, and race. It contextualizes contemporary artists who today engage with digital technology and the influence of the Internet within a broader art historical narrative to reveal shared interests that emerge across generations, despite differing technological means.
Location
MDC Museum of Art and Design 600 Biscayne Boulevard, Miami, FL 33132 (Map)
Contact Information
Museum of Art and Design
305-237-7700