Chamber Music Concert #2- Beethoven's Voice
Saturday, Dec 5, 2020 at 8:00 PM - English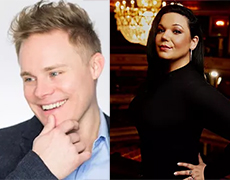 Orchestra Miami's Beethoven for Miami Festival continues with "Beethoven's Voice" a concert of lesser-known vocal masterworks by Beethoven performed at the Coral Gables Museum on Saturday, December 5th at 8 PM.
Beethoven wrote hundreds of "lieder" (songs) which are seldomly heard on the concert stage. Enjoy a selection of songs performed by internationally acclaimed opera stars Chad Johnson, Elaine Alvarez and others.
Enjoy the concert live at the venue, or watch in the comfort of your home via live stream broadcast. Due to Covid-19 restrictions, attendance at the venue will be limited to just 50 people and masks will be required to enter. Tickets are $30 for in-person viewing; $25 for seniors- general admission seats, and $15 per household for online live stream broadcast.
Don't miss the next two chamber music concerts in our festival!
Location
Coral Gables Museum 285 Aragon Avenue, Coral Gables, FL 33134 (Map)
Contact Information
Elaine Rinaldi