Matthew Sabatella & the Rambling String Band
Sunday, Jan 31, 2021 at 3:00 PM - English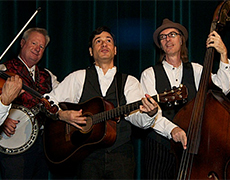 With vocals, guitar, banjo, fiddle, mandolin, and bass fiddle, The Rambling String Band brings to life music that is woven into the fabric of the United States: traditional folk songs, fiddle tunes, old-time country, bluegrass, Appalachian music, ragtime, blues, spirituals, railroad and cowboy songs, work songs, sea shanties, reels, breakdowns, ballads, and more.
A popular favorite, your kids will have a rollicking, foot-stomping, good old time! Raised on a variety of rock and pop music forms from the second half of the twentieth century, the Rambling String Band members followed the influences of their musical heroes back in time to unearth a treasure trove of American roots music. They perform and record these songs with respect for their essence and place in history while imbuing them with a vitality and intensity that betrays their rock and roll upbringing. Masks are required to enter and social distancing and other safety measures will be enforced.
Space is limited to 150 guests, so get your ticket today! Tickets are: $10- Kids (3-17), $12 Seniors (65 & Up), $15 Adults, $36 for a Family pack. Get your ticket today by visiting website. For more information, please visit website.
Location
Pinecrest Gardens 11000 SW Red Road, Pinecrest, FL 33156 (Map)
Contact Information
Elaine Rinaldi
877-496-8499