Tango and More! With Duo Rosa Incaica
Sunday, Feb 14, 2021 at 3:00 PM - English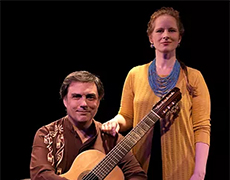 Introduce your kids to the rich music of Argentina in a program of tango and Argentine folk songs, performed and narrated by Rosa Incaica!
The Argentinean voice and guitar duo performs an interactive concert of the classics, as well as a mix of traditional folk music from Argentina in a program for the whole family including songs by Astor Piazzolla, Maria Elena Walsh and Atahualpa Yupanqui. ROSA INCAICA has delighted audiences in Argentina, Europe and the United States, presenting programs that celebrate the music from Argentina, including songs by Astor Piazzolla, Atahualpa Yupanqui, Carlo Gardel, Fito Páez, Cuchi Leguizamón, and Eduardo Falú, as well as songs made famous by Mercedes Sosa, the voice of Latin America. They have shared the stage with Argentine folk and tango music greats: Jaime Torres, el Chaqueño Palevecino, Adriana Varela, el Sexteto Mayor and Juan Falú.
Masks are required to enter, and social distancing and other safety measures will be in place. Space is limited to 150 people, so get your ticket today! Space is limited to 150 guests, so get your ticket today by visiting website. Tickets are: $10- Kids (3-17), $12 Seniors (65 & Up), $15 Adults, $36 for a Family pack. For more information visit website.
Location
Pinecrest Gardens 11000 SW Red Road, Pinecrest, FL 33156 (Map)
Contact Information
Elaine Rinaldi
877-496-8499