Dranoff 2 Piano presents Cuba Symphonic feat. the Alonso Brothers
Friday, Mar 26, 2021 at 8:00 PM - English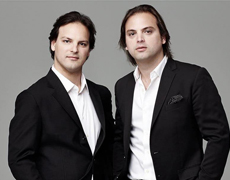 Miami-Dade County Auditorium and Dranoff International 2 Piano Foundation are pleased to present Cuba Symphonic featuring virtuoso pianists and Cuban brothers, Orlay and Orlando Alonso, in an immersive experience that places the audience at the center of the "Golden Era" of Cuban music and entertainment. This musical program features 1930s, 40s and 50s Cuban classics from the popular and classical repertoire in arrangements for two pianos with the Symphony Orchestra.
Equally talented, the Alonso Brothers dazzle with their artistic exuberance and passionate expression. The program highlights a variety of Cuban styles such as Mambo, Cha Cha, Salsa, Bolero, Son, Danzon, and Conga, and includes works by Celia Cruz, Ernesto Lecuona, Ignacio Cervantes, Miguel Failde, and Perez Prado, among others. This performance is part of the Drive-Through Theatre Experience series.
Tickets are non-refundable. Tickets cannot be exchanged. There is no late seating.
Location
Miami-Dade County Auditorium 2901 West Flagler St, Miami, FL 33135 (Map)