Global Cuba Festival 2021
Saturday, Mar 6, 2021 at 7:00 PM - English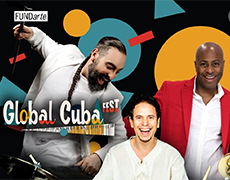 FUNDarte and Miami Light Project present the 14th edition of Global Cuba Fest 2021. This concert is an in-person live event with reduced capacity seating and all Covid-19 safety protocols in place.
A double bill featuring:
Alain Pérez + Julio Montalvo and the Cuban Collective
Dafnis Prieto Sextet
Show more >>
Trombonist, percussionist and singer Julio Montalvo and bassist and singer Alain Perez collaborate once again with a world-class ensemble featuring top musicians from Cuba, Miami and Cuban diaspora. Montalvo is known for blending Afro-Cuban rhythms with elements of modern jazz to achieve an ingenious style – New Latin Jazz.
Alain Perez is a multi-instrumentalist, singer, producer and composer. Perez, a super versatile artist, has worked with legends including Celia Cruz, Paco de Lucía, Enrique Morente, Diego El Cigala, Los Van Van and Issac Delgado - in addition to his own Latin Grammy-nominated solo projects.
Cuban-born drummer, composer, educator, and 2011 MacArthur Genius Fellow Dafnis Prieto returns to Global Cuba Fest with his sextet, performing live songs from his new album, Transparency. Prieto is known for his composing and arranging talents as much as for his electrifying drumming, comfortable exploring a wide spectrum of musical vocabularies. The sextet includes other notable Latin and jazz artists including Román Filiú (alto sax), Alex Norris (trumpet), and Peter Apfelbaum (tenor sax).
GLobal Cuba Fest was launched by Miami Light Project and FUNDarte in 2008. Global Cuba Fest is an internationally acclaimed celebration of the rhythms, music and culture of Cuba. Annually, Global Cuba Fest enriches Miami's musical scene with the sounds of today's leading musicians direct from Cuba and from the Cuban diaspora.
Location
North Beach Bandshell 7275 Collins Avenue, Miami Beach, FL 33141 (Map)
Contact Information
305-672-5202