Digital Month All May: Color Caribe
Saturday, May 22, 2021 at 8:00 PM - Spanish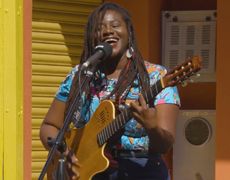 Join us this May for a full month of virtual performances, premiering every Saturday evening from May 8-29, 2021 on the official Miami-Dade County Auditorium YouTube page. Our Digital Month All May features a variety of dance, flamenco, music and children's performances.
FUNDarte and Miami-Dade County Auditorium present the live launch of the children's songbook Color Caribe, with an acoustic concert featuring Rita Rosa Ruesga, Pavel Urkiza, Inez Barlatier and acting by Leandro Peraza.
This digital show is free to watch with no limited viewing time after the premiere date on Saturday, May 22nd at 8pm. Enjoy unique and cultural performances from the safety and comfort of your home as we continue our transition to a new normal of performing arts each day.
Location
Miami-Dade County Auditorium 2901 West Flagler St, Miami, FL 33135 (Map)
Contact Information
Carolina Pupo-Mayo
305-547-5414
305-541-7782