"Vuelve a contarmelo todo" de Abel Gonzalez Melo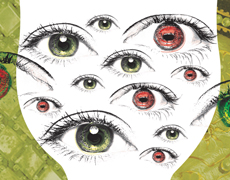 ARCA Images and Miami-Dade County Auditorium present the world premiere of "Vuelve a contarmelo todo" (Tell me Everything Again), written and directed by Abel Gonzalez Melo, starring Adrian Mas and Laura Aleman.
Un actor de reparto, cansado de la rutina. Una joven actriz, llena de ilusiones. Una cesta de manzanas cae al suelo y ellos por primera vez se miran. A partir de ese momento ya no van a separarse. Nada los detendra en su carrera imparable hacia el abismo del exito. No habra traicion, ni venganza, ni crimen que no cometan para llegar a la cuspide, juntos. Al borde del precipicio, se veran obligados a reconstruir la historia de la que son protagonistas, a reinventarse en una noria sin fin. Un thriller sentimental con toques de comedia negra. Un hechizo arcaico libremente inspirado en Macbeth de Shakespeare. Una violenta reflexion, con el teatro a cuestas, sobre la sociedad de estos tiempos.
This theatrical performance is part of MDCA IRL: Summer and the Hot Theatre Summer Series.
Location
Miami-Dade County Auditorium 2901 West Flagler St, Miami, FL 33135 (Map)