Schubertiade, Part I and II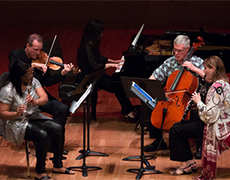 Jeanette Thompson, host; Frost Chamber Players; Kevin Kenner, piano; Frank Ragsdale, tenor; Margaret Donahue, clarinet; Rafael Padron, guitar; Richard Todd, French horn; Scott Flavin, violin; Jodi Levitz, viola; Ross Harbaugh, cello; Brian Powell, bass; Amanda Quist, mezzo-soprano.
The Schubertiade is a tradition that began in 1815 when composer Franz Schubert was 18 years old. It originated as unpublicized, informal concerts of his music, but quickly spread throughout Europe, and eventually to the United States. The tradition remains. Schubertiade festivals and concerts now happen globally. To commemorate Schubert's 225th birthday, Frost faculty and Frost Chamber Players perform Octet D. 72 in F major, Variations on Trockne Blumen, Arpeggione Sonata, Auf dem Strom (On the River), Der Hirt auf dem Felsen (The Shepherd on the Rock), his famous Trout Quintet, and more.
Location
UM Gusman Concert Hall 1314 Miller Drive, Coral Gables, FL 33146 (Map)