Unbroken: Neoclassical & Contemporary Ballets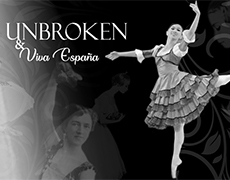 Arts Ballet Theatre of Florida's "Unbroken" Neoclassical & Contemporary Ballets comes to the Aventura Arts & Cultural Center on Saturday, October 9 at 7:30 p.m. and Sunday, October 10 at 3 p.m.
Choreographed by Ballet Master Vladimir Issaev, to the music of Édouard Lalo's Namouna, this re-imagining of Lalo's Romantic ballet serves as a testament to the timelessness of Classical ballet as well as its continuity during these challenging and changing times while introducing the audience to the future of Classical ballet. Additional repertoire includes "Viva España" with music by Massenet and Choreography by Issaev and other neoclassical and contemporary pieces. Not suggested for children under 4 years old.
Tickets are $35.
Location
Aventura Arts & Cultural Center 3385 NE 188 Street, Aventura, FL 33180 (Map)
Contact Information
Aventura Arts & Cultural Center
877-311-7469
954-462-0222