ZunZun Children's Fest 2021
Saturday, Oct 2, 2021 from 2:00 PM to 6:00 PM - Spanish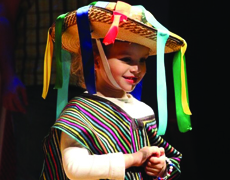 ZunZun Children's Fest celebrates timely programming for families and young audiences through an array of bilingual musical and theatrical projects that encourage the appreciation of the culture and the values of "Hispanidad". Don't miss this commemoration of the cultural heritage of Latin American and Caribbean and the world's Latin musical legacies. Food trucks and family activities available on-site, featuring "My Folk Life" by Nallely Ponce and "Insectos y Bicharracos" by Rita Rosa Ruesga.
This performance is part of our Fun Arts for the Family Series.
PLEASE NOTE: Before attending, please review our updated Health & Safety Measures for indoor performances at Miami-Dade County Auditorium. Bag checks may occur at the lobby doors before entry. Please allow yourself a bit of extra time while planning your trip.
Location
Miami-Dade County Auditorium 2901 West Flagler St, Miami, FL 33135 (Map)