Friday Night Live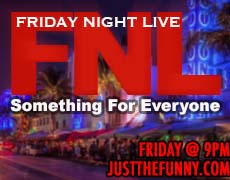 It's JTF's special combination of shortform and longform improv! Enjoy as our award winning cast brings you fantastic improv that's perfect for your Friday night...LIVE!
Our shows are often described as fast-paced improvised comedy. Think of it as Whose Line is It Anyway meets SNL with a lot of fun audience interaction along the way. Come be a part of the fun!
Tickets are PER PERSON.
NON REFUNDABLE after purchase.
The shows START at 9pm and END between 10:30pm and 10:45pm.
Location
Just The Funny Theater & Training Center 3119 Coral Way, Miami, FL 33145 (Map)