Hiplet Ballerinas
Friday, Jan 14, 2022 at 8:00 PM - English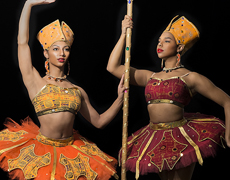 HipletTM fuses classical pointe technique with African, Latin, Hip-Hop and urban dance styles that are rooted in communities of color. Promoting inclusivity in both their cast and audience, Hiplet features true-toned tights, modern music, and dancers of all shapes, sizes and colors. Specifically designed to make ballet accessible to all, Hiplet performs to current popular songs that will be familiar to audiences who don't normally attend ballet performances.
Teens and young adults ages 13-22 can buy tickets for $5 with Culture Shock Miami. With the purchase of one $5 ticket for someone within the age range, a second $5 ticket can be purchased for an individual of any age to join them.
Visit www.cultureshockmiami.com for tickets and details on this offer.
Location
Miami-Dade County Auditorium 2901 West Flagler St, Miami, FL 33135 (Map)