The Real James Bond was Dominican
Feb 25, 2022 & Feb 26, 2022 - at 8:00 PM - English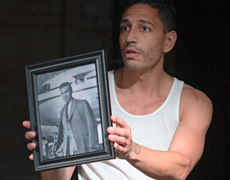 What happens when a James Bond-obsessed Dominican boy in Queens (who won't go anywhere without his nerf gun), finds out that the real James Bond was Dominican? This is a true story about Porfirio Rubirosa, Ian Fleming's inspiration for Bond and a young Dominican actor-to-be, whose discovery of "Rubi" shakes his very foundation. Written and performed by Christopher Rivas.
Teens and young adults ages 13-22 can buy tickets for $5 with Culture Shock Miami. With the purchase of one $5 ticket for someone within the age range, a second $5 ticket can be purchased for an individual of any age to join them. Visit www.cultureshockmiami.com for tickets and details on this offer.
Recommended for 18 and up.
Location
Miami-Dade County Auditorium 2901 West Flagler St, Miami, FL 33135 (Map)