Mozart and Mendelssohn
Thursday, Mar 24, 2022 from 7:30 PM to 9:15 PM - English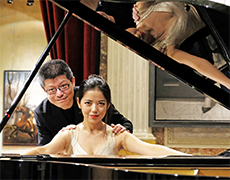 South Florida Symphony presents Mendelssohn's "Scotch" Symphony and Mozart's Double Piano Concerto in E-Flat major, featuring husband-and-wife-duo Catherine Lan and Tao Lin.
Show more >>
Husband-and-wife-duo Catherine Lan and Tao Lin were regular performers during SFSO's virtual Intermission Music Series, presented for free during Covid shutdown. Also known as Duo Beaux Arts, together they join SFSO on the mainstage for the first time, performing Mozart's Concerto for Two Pianos in E-flat Major, one of the limited number of works for two or more solo instruments with orchestra.
Some of Mendelssohn's most brilliant musical inspirations came from his travels. While on holiday in Scotland, he was particularly moved by the picturesque, evocative ruins of Holyrood Chapel in Edinburgh, the inspiration for his Symphony No. 3 in A minor, Op. 56 " also known as the "Scottish" or "Scotch Symphony."
Tickets from just $15 are on sale now. Student tickets and group rates are also available. Information at Call or Website.
Location
Temple Israel of Greater Miami 137 NE 19th St., Miami, FL 33132 (Map)
Contact Information
Caroline Murray
954-522-8445