Beethoven's 'Eroica' and Copland Clarinet Concerto
Thursday, Apr 28, 2022 from 7:30 PM to 9:30 PM - English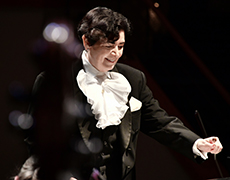 South Florida Symphony's season finale concert featuring Beethoven's monumental "Eroica" Symphony and Copland's melodious and jazzy Clarinet Concerto, performed by clarinetist David Shifrin.
Show more >>
South Florida Symphony's season finale concert commences with Bach's intricate Triple Concerto for harpsichord, flute, violin and string orchestra, and Copland's Clarinet Concerto, also referred to Concerto for Clarinet and String Orchestra (with Harp and Piano). Acclaimed soloist, David Shifrin, joins SFSO for this melodious and jazzy two-movement concerto, which was originally commissioned by renowned jazz clarinetist Benny Goodman.
SFSO's magnificent 2021/22 season culminates with one of Beethoven's most celebrated works: his monumental Symphony No. 3 in E-flat Major. The "Eroica" Symphony represents a turning point not only in Beethoven's career - but also in the history of music - setting a new symphonic template for future composers to emulate. This is truly a "Sinfonia Eroica," or heroic symphony.
Tickets from just $15 are on sale now. Student tickets and group rates are also available. Information at Call or website.
Location
Temple Israel of Greater Miami 137 NE 19th St., Miami, FL 33132 (Map)
Contact Information
Caroline Murray
954-522-8445