4th Annual Faena Jazz Series
Wednesday, Jun 15, 2022 at 8:00 PM - English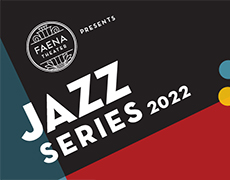 JANUARY - JUNE 2022
Faena Live is proud to announce the return of the 4th Annual Faena Jazz Series, presenting six concerts by emerging and established artists such as Robben Ford, Samara Joy, Miguel Zenon and Raul Midon and produced and curated by Grammy-nominated record producer and artist Rachel Faro.
Show more >>
In keeping with Faena's commitment to delivering unparalleled offering and experiences, jazz lovers from South Florida (and beyond) are invited to enjoy the sounds of great jazz at the intimate, elegant and glamorous Faena Theater at the Faena Hotel in Miami Beach.
SEASON TICKETS NOW AVAILABLE!
The series kicks off on January 26th with guitar great Robben Ford and his quartet of Nashville-based players. Multiple Grammy nominee, Robben is considered to be one of the world's premier electric guitarists. A founding member of The Yellowjackets, Robben has played with Miles Davis, Joni Mitchell, George Harrison, Stevie Winwood and many more.
ROBBEN FORD
WEDNESDAY, JANUARY 26 | 8:00 PM
SAMARA JOY & PASQUALE DE GRASSO
WEDNESDAY, FEBRUARY 9 |8:00 PM
RAUL MIDON
WEDNESDAY, MARCH 9 | 8:00 PM
MIGUEL ZENON & THE STAMPS QUINTET
WEDNESDAY, APRIL 13 | 8:00 PM
HALIE LOREN
WEDNESDAY, MAY 18 | 8:00 PM
SAMMY FIGUEROA & HIS LATIN JAZZ ENSEMBLE - A FATHER'S DAY SPECIAL
WEDNESDAY, JUNE 15 | 8:00 PM
Location
Faena Theater 3201 Collins Ave, Miami Beach, FL 33140 (Map)
Contact Information
786-655-5742