Beyond Tradition: Contemporary Sculptures from Africa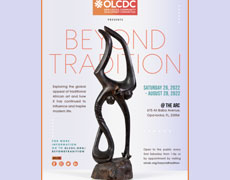 Beyond Tradition: Contemporary Sculptures from Africa, opening on February 25th, 2022, at The ARC in Downtown Opa-Locka. Every Secon Saturday from 1 pm to 5 pm until August 28th, 2022.
Show more >>
The exhibition is curated by internationally renowned curator Tumelo Mosaka, the former lead curator for the Investec Cape Town Art Fair. The exhibition challenges Western cultural norms and perspectives of what contemporary African art is by presenting African sculpture in dialogue with works from some of Africa's exciting artists.The exhibition takes advantage of OLCDC's impressive holdings from its Karg Collection and features various stone and wood sculptures representing traditions from regions in Africa, including Zimbabwe, Mozambique, and Tanzania, where carving tradition has a long cultural history. Featured artists include Sylvster Mubayi, Bernard Takawira and Edward Masaya, among others. Additionally, the exhibition will include paintings from famed artists Ouattara Watts, known for his large-scale canvas works that incorporate cryptic symbols, geometric designs, and numerical sequences that speak to his cross-cultural identity and MalatangaValente Ngwenya, a pioneer of modern African art with an aesthetic that is defined by a dense assembly of figures.
Location
The ARC 675 Ali Baba Ave, Opa Locka, FL 33054 (Map)
Contact Information
Ali Minott