The Baylor Project w/ Jean Baylor & Marcus Baylor
Dec 2, 2022 to Dec 4, 2022 - various times - English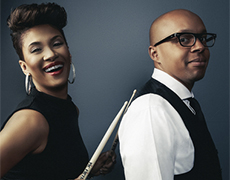 NAACP IMAGE AWARD WINNER
4X GRAMMY® NOMINEE
The Baylor Project
The Baylor Project featuring Jean Baylor and Marcus Baylor an enticing collaboration steeped in the heart and soul of jazz. As the children of Pastors, Marcus' and Jean's musical roots were planted deep within the church, and it was there that the road was paved for the influence of jazz, gospel, blues and soul to make it's mark.
Show more >>
Their debut CD "The Journey", released on their own label, Be A Light, topped the Billboard Jazz Chart at Number 8 in 2017 and a year later garnered 2 GRAMMY® Nominations for Best Jazz Vocal Album and Best Traditional R&B Performance. Two years later during one of the most challenging years in recent history, The Baylors released their single, "Sit On Down' in 2020 which earned a 3rd GRAMMY® Nomination for Best Traditional R&B Performance. Their second album, "Generations', released in 2021 earned the duo its first NAACP Image Award win for Outstanding Jazz Album-Vocal and it's 4th GRAMMY® Nomination for Best Jazz Vocal Album, solidifying The Baylor Project as an undeniable force. On September 2, 2022, The Baylor Project released their first live album, "The Evening : Live at APPARATUS".
This immersive, soul-stirring set was recorded in front of an engaged live audience at APPARATUS – a singular interdisciplinary design space in New York City. For three magical nights, the indomitable couple and their exceptional band graced the stage at MUMS, a sophisticated jazz club created for just one weekend. The Evening: Live at APPARATUS displays the transformative power of performance, in a presentation of both style and substance.
Location
Keystone Korner Baltimore 1350 Lancaster Street, Baltimore, MD 21231 (Map)