Red Speedo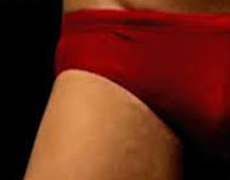 A Prize-winning play about what happens when an Olympic hopeful (swimmer) with a low I.Q., pumped full of entitlements and no sense of morality is faced with the loss of a big-time swimming suit endorsement when he becomes involved in a performance-enhancing drug related, locker room scandal?
The drama RED SPEEDO in five short, shocking scenes examines the dilemma. The Obie-winning play by the Tony-nominated playwright of A DOLL'S HOUSE PART TWO – has been performed nationally and now makes its South Florida premiere in Wilton Manors, premiering December 2. The play won both the prestigious Obie & Outer Critic Circle Awards and was nominated for a Lortel & Drama Desk Award for OUTSTANDING PLAY. Ray, played by Gabriell Salgado, a recent Silver Palm Award Winner for OUTSTANDING NEW TALENT and a double Carbonell OUTSTANDING ACTOR nominee is in perfect physical condition, dressed only in a red speedo throughout the play. Brief, bullet-like encounters take place between the swimmer, his coach, his girlfriend and his beleaguered lawyer brother who is always around to bail the swimmer out when he gets in trouble. The play is full of twists, turns and betrayals, where winning is everything.
Is he willing to kill for fame and fortune, unconcerned about whoever he destroys along the way?
The play is directed by Stuart Metzler, a multiple Carbonell and Silver Palm Award Winner and is produced by Ronnie Larsen Presents.
Location
The Foundry 2306 N. Dixie Highway, Wilton Manors, FL 33305 (Map)
Contact Information
Harvey Owen