Negroni's Trio "Ready for Christmas" LIVE!
Friday, Dec 9, 2022 at 8:00 PM - English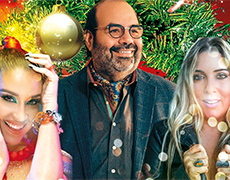 Celebrate the blessings and joy of Christmas songs with the voices of Nicole Samara and Ana Del Rocio, alongside composer and producer Jose Negroni. Get in the holiday spirit with this classic Christmas concert for the whole family.
Tickets are $40.
Location
Miami-Dade County Auditorium 2901 West Flagler St, Miami, FL 33135 (Map)