Renee Rosnes Quartet
Mar 10, 2023 to Mar 12, 2023 - various times - English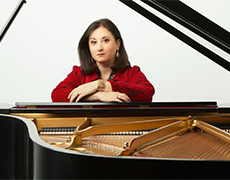 Renee Rosnes - piano
Steve Nelson - vibes
Peter Washington - bass
Lewis Nash - drums
Renee Rosnes is one of the premier jazz pianists and composers of her generation.
Show more >>
Upon moving to New York City from Vancouver, she quickly established a reputation of high regard, touring and recording with such masters as Joe Henderson, Wayne Shorter, Bobby Hutcherson, J.J. Johnson, James Moody, and legendary bassist Ron Carter. She was a charter member of the all-star ensemble, the SFJAZZ Collective, with whom she toured for six years. As a leader, Ms. Rosnes has released 17 acclaimed recordings. In 2016, Written in the Rocks (Smoke Sessions) was named one of ten Best Jazz Albums of the Year by The Chicago Tribune, one of the Best Albums in all genres of music by The Nation, and was awarded a 2017 Canadian Juno (her fifth Juno award). JazzTimes wrote, "Ms. Rosnes delivers conceptual heft, suspenseful compositions and mesmerizing performances," and DownBeat praised it as "an exceptional achievement" stating "Rosnes is a virtuoso composer." Rosnes is married to jazz pianist Bill Charlap, and the two often perform in a two-piano setting. The duo was featured on four tracks from the 2015 Grammy award winning album, Tony Bennett & Bill Charlap: The Silver Lining.
Steve Nelson, an outstanding vibraphonist and composer, started playing piano and vibes as a teenager and progressed quickly enough as to play with guitar-legend Grant Green. As a resident of the New York area, he has performed and recorded with many great musicians including Kenny Barron, Bobby Watson, Mulgrew Miller, David Fathead Newman, Johnny Griffin and Jackie McLean. He is currently a member of The Dave Holland's Band, Mulgrew Miller's Wingspan, and the Lewis Nash Trio.
Perhaps the most recorded bassist of his generation, Peter Washington has also played an integral part in two of the most important and highly praised jazz trios of the last 20 years, in addition to a "who's who" roster of jazz artists. In 1986, while performing in San Francisco with alto saxophonist John Handy, he was asked by Art Blakey to move to New York and join the seminal Art Blakey's Jazz Messengers. In the early 1990's Washington joined the Tommy Flanagan Trio , called by many "the greatest trio in jazz", and remained until Flanagan's death, in 2002. For the past ten years he has been a member of the very highly acclaimed Bill Charlap Trio. In the scope and breadth of his career thus far, his adaptability, and in his emphasis on creative, supportive, swinging time-playing as well as inventive and intelligent soloing, Washington has been compared to the likes of George Duvivier, Milt Hinton, and Ron Carter.
Universally recognized as one of the great drummers in jazz history, Lewis Nash illustrious career now spans over four decades. Nash is one of jazz's most recorded musicians, appearing on over 500 recordings including 10 Grammy winners and numerous Grammy nominees. In fact, Nash has the distinction of being the only musician in jazz history featured on the winners in both the "Best Jazz Vocal" and "Best Jazz Instrumental" album categories in two separate years: the 2004 Grammys with Nancy Wilson and McCoy Tyner, and again in 2010 with Dee Dee Bridgewater and James Moody. His resume reads like a "who's who" of jazz royalty, with jazz legends including Oscar Peterson, Dizzy Gillespie, JJ Johnson, Sonny Rollins, Tommy Flanagan, Sonny Stitt, Clark Terry, Stan Getz, Benny Golson, Art Farmer, Gerry Mulligan, Hank Jones, Horace Silver, McCoy Tyner, Ray Brown, Milt Jackson, Jimmy Heath, Randy Weston, Cedar Walton, Ron Carter, Wynton and Branford Marsalis, and many, many more!
Location
Keystone Korner Baltimore 1350 Lancaster Street, Baltimore, MD 21231 (Map)