Viva Zarzuela!
Sunday, Feb 5, 2023 at 3:00 PM - English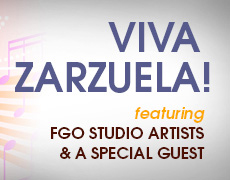 One night only! Don't miss the musical event of the year on Miami Beach. The program of popular and operatic songs from Spain and Cuba features some of your favorite Zarzuelas, including Luisa Fernanda, La tabernera del puerto, and many more. From toe-tapping melodies to dramatic, heart soaring arias, to popular songs, you can't help but sing along. Experience the atmosphere and rich tradition of this uniquely Hispanic music as performed by our world-class Studio Artists and special guests.
Tickets are $25 General Admission (Free for Donors and Subscribers) at website.
Location
Cuban Hebrew Congregation of Miami 1700 Michigan Avenue, Miami Beach, FL 33139 (Map)
Contact Information
Customer Service
1-800-741-1010