Gianni Schicchi/Buoso's Ghost - Broward Center for the Performing Arts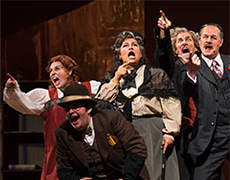 A double bill of two one-act operas that follow the same story.
Gianni Schicchi: In this comedy, called an "uproarious delight" when it premiered, the wealthy Buoso Donati lies on his death bed, his greedy relatives ready to feign grief but eager to discover their share of the inheritance. When no will is found, they enlist the help of the shrewd lawyer Gianni Schicchi to produce a counterfeit will. Schicchi is happy to oblige, but names himself the primary beneficiary.
What can the family do when they were accomplices to the forgery?
It's comic opera at its witty and ingenious best. It also features one of the most famous and beautiful arias in all opera, "O mio babbino caro."
Buoso's Ghost: In this comic sequel to Gianni Schicchi, Buoso's Ghost begins where Schicchi ends. The premise is that Buoso Donati didn't die of natural causes but was poisoned by his family. Of course, who better to manipulate the truth than the cunning and self-serving family lawyer Gianni Schicchi!
Total run time: 2 hours 10 minutes including one intermission.
Location
Broward Center for the Performing Arts 201 SW 5th Avenue, Fort Lauderdale,, FL 33312 (Map)
Contact Information
Ticket Office
1-800-741-1010