Ponce, Schoenfield and Hernandez at The Betsy Hotel
Saturday, Apr 1, 2023 from 7:30 PM to 9:00 PM - English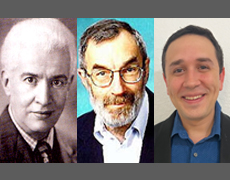 Manuel Ponce Trio romantico for violin, cello and piano (1926)
Paul Schoenfield Cafe Music (1985)
Jose Luis Hernandez Azulín (2022)
Our first international cultural exchange, Music in Motion: Mexico City, performing piano trios by Manuel Enriquez, Paul Schoenfield and Jose Luis Hernandez, ends in south Florida. Joining us is Carlos Adriel Salmeron, a renowned figure and active pianist in Mexico.
Show more >>
Manuel María Ponce Cuéllar (1882-1948) was a Mexican composer active in the 20th century. His work as a composer, music educator and scholar of Mexican music connected the concert scene with a mostly forgotten tradition of popular song and Mexican folklore. Many of his compositions are strongly influenced by the harmonies and form of traditional songs.
Paul Schoenfield (1947- ) "The idea to compose Café Music first came to me in 1985 after sitting in one night for the pianist at Murray's Restaurant in Minneapolis, Minnesota. Murray's employs a house trio which plays entertaining dinner music in a wide variety of styles. My intention was to write a kind of high-class dinner music — music which could be played at a restaurant, but might also (just barely) find its way into a concert hall. The work draws on many of the types of music played by the trio at Murray's. For example, early 20th century American, Viennese, light classical, gypsy, and Broadway styles are all represented. A paraphrase of a beautiful Chassidic melody is incorporated in the second movement. Café Music was commissioned by the St. Paul Chamber Orchestra (SPCO) and received its premiere during a SPCO chamber concert in January 1987." (Art of the States).
Jose Luis Hernandez earned his Bachelor's degree from the University of Florida-New World School of the Arts, studying composition with Susan Epstein Garcia, and is currently working on his Master's degree at Berklee College of Music, Boston. As a composer and pianist, Mr. Hernandez has received numerous recognitions for his works such as: 1st prize at the Robert Avalon International Composition Competition for Composers-Emerging Artist division (Houston, 2020); two times 1st prize at the Jane Pyle Composition Competition at Miami Dade College (Miami, 2015 and 2016); and 3rd prize-Level 5 at the Silvia Eisenstein National Piano Competition at EEMMAL (Caracas, 2011).
Location
The Gallery @ The Betsy Hotel 1433 Collins Avenue, Miami Beach, FL 33139 (Map)