Through the Storm: Women Walking in Greatness
Wednesday, Apr 5, 2023 various times - English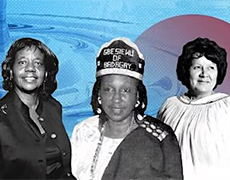 IlluminArts, Hued Songs, and Vizcaya have partnered to present Through the Storm: Women Walking in Greatness | A Musical Journey of Women Creating Change in South Florida.
Hued Songs, IlluminArts and Vizcaya are thrilled to present a three-part series of performances amplifying the historic contributions of three influential women. Dorothy Jenkins Fields, Sandrell Rivers and Betty Mae Tiger Jumper's work has impacted and transformed Miami and South Florida, creating change for their, and future, generations. The musical performances will illuminate the intersections among the women's lives as well as their inspirational achievements and contributions. The programs will feature sopranos Brittany Graham and The Jas Sound, and mezzo-soprano Elise Quagliata.
This is a series of three plays/musical performances. Each concert will focus on a different influential woman.
March 22 will highlight Dr. Dorothy Jenkins Fields, Founder of The Black Archives.
March 29 will focus on Betty Mae Tiger Jumper, the first Chairwoman of the Seminole Tribe of Florida.
April 5 will highlight Chief Sandrell Rivers, a Miami arts advocate.
There will be two performances each evening: one at 6:30 p.m. and one at 7:45 p.m.
Location
Vizcaya Museum and Gardens 3251 S Miami Ave, Miami, FL 33129 (Map)