Cornelius Tulloch: Poetics of Place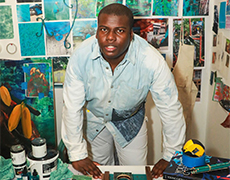 Poetics of Place is an architectural Installation that will create a communal space for cultural exchange, storytelling, and creative expression.
Set in the ruins of a Miami Home's porch space, this installation shadows the dystopian future we face due to current climate gentrification in our city. We must ask ourselves, what happens to the cultures we don't preserve? Will their memories and presence drift away with the rising tides of new development. What happens to these people and this place? These are the questions Poetics of Place presents us as an immersive site specific installation composed of projection, video, and architectural interventions. This space will serve as the memory of Miami's past, present, and future as a cultural stage for what must be protected and preserved.
Show more >>
"As both an Artist and Architect my work is shifting the narrative of cultural identities' importance within the built environment by exploring how space shapes cultural identity and how cultural identity cultivates landscapes. In this architectural installation I wanted to bring visibility to many underrepresented stories and lived experiences of communities just blocks away from Locust Projects. Miami's Black communities are at a very vulnerable stage within history, and as an artist I want to use my creative voice to amplify the many unheard voices within our city.
I plan to activate this space with an interdisciplinary performance depicting the lived experience of the porch space as integral vernacular for social development, placemaking, and cultural identity. I am glad to partner with a forward thinking space like Locust projects that is allowing me to not only push the narrative and scales of my work, but also the media and mediums I work with as an interdisciplinary artist. "Poetics of Place" is an homage to the Miami we once knew, and a plea to protect the future of its vulnerable Black and Caribbean communities."
Location
Locust Projects 297 NE 67th St., Miami, FL 33138 (Map)