Chopin for All: William Ge - Broward Center for the Performing Arts
Monday, Dec 4, 2023 from 3:00 PM to 5:00 PM - English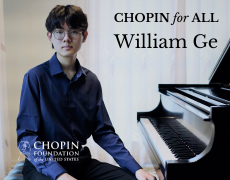 In a double treat for music enthusiasts, the Chopin for All series proudly presents two concerts featuring the remarkable young artist, William Ge. With second place and the prestigious Chopin Prize from the 2023 MTNA National Senior Piano Competition under his belt, William, aged 16, is a rising star.
William's musical journey includes a dazzling debut with the Philadelphia Orchestra in October 2022, where his interpretation of Mozart's Concerto No. 23 garnered praise from The Philadelphia Inquirer. He is also a third-year recipient of the Chopin Foundation's Chopin Scholarship Program and stands among the 28 Caroline D. Bradley Scholars in the class of 2025 in the United States.
Join us for these unforgettable concerts, first on Sunday in Coral Gables and then on Monday in Fort Lauderdale, where William Ge will enchant audiences with his exceptional talent, including the timeless compositions of Chopin, as part of the Chopin for All series.
The Sunday concert at the Granada Church will be live-streamed on YouTube.
Admission is Free. Registration Recommended.
Seating is General Admission and available on a first-come, first-served basis.
No Tickets Required.
Location
Broward Center for the Performing Arts 201 SW 5th Avenue, Fort Lauderdale, FL 33312 (Map)