Media Under Dystopia WISPer edition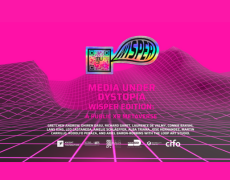 The MUD Foundation announces Media Under Dystopia WISPer edition, an extended reality exhibition featuring projects by artists that delves into the relationship between the internet, extended reality (XR), and the democratization of art creation.
The exhibition will open with an opening reception, on November 29th at 7pm, (RSVP) which will kick off the Miami Art Week, when Miami becomes the center of the art world with over 20 art fairs, 1,200 galleries and thousands of artists and art lovers in town. The show will run online for six months until June 30, 2024.
Show more >>
A hybrid exhibition with 25 local and international artistsThe WISPer edition combines physical and internet based artworks by 25 artists, exploring the internet as extension of their current practices. Visitors can experience and engage with artworks both in person and in a virtual realm, becoming active participants in the artworks themselves. This concept lies at the heart of the MUD Foundation's mission, to facilitate educational and artistic projects that foster awareness of contemporary digital culture and its impact on society.
The exhibition will run virtually on the MUD Foundation metaverse (MUD Verse) and on Loop.Onland.io, two XR platforms developed by the organization to host exhibitions and educational programs over the internet. These platforms feature real-time interaction and XR interfaces, utilizing augmented and virtual reality through a web browser. Since its launch in 2018, the MUD Foundation XR (XRCamp) programs have been featured by the Perez Art Museum Miami, De La Cruz Collection and Bakehouse Art Complex, among other institutions. In 2022, MUD Foundation received the Knight Foundation New Work Award for the development of the exhibition program Media Under Dystopia.
The participating artists in the exhibition include Gretchen Andrew, Connie Bakshi, Martin Carrillo, Leo Castaneda, Dhiren Dasu, Laurence de Valmy, Richard Garet, Jose Hernandez, Lans King, Rodolfo Peraza, Amelie Schlaeffer and Ariel Baron-Robbins, alongside LOOP artists in residence: Angie Amaro, BBraio, cha, Wenjun Chen, AdrienneRose Gionta, Inbar Hagai, Ibuki Kuramochi, Joelle McTigue, Zhou Peng, Denis Rovinskiy, David Sainte, Ryan Seslow and Match Zimmerman.
The WISPer edition unfolds as a co-creative lab, featuring progressive activities such as hands-on workshops, eTalks, and the XRCamp program. MUD aspires to evolve into a dynamic hub for art-tech-centered collaboration, both online and in-person.
Location
MUD Foundation 350 Northeast 75th Street,, Miami, FL 33138 (Map)