The Art of Banksy Exhibition is Coming to Miami!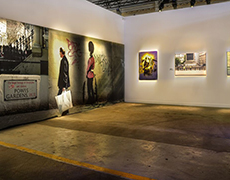 Miami will welcome the US premiere of "The Art of Banksy," an acclaimed showcase featuring 80 original works created by, arguably, the most intriguing and talked about artist in modern history. "The Art of Banksy" has already generated excitement in Melbourne, Tel Aviv, Auckland and most recently in Toronto. Now Miami will host this spectacular exhibit in Magic City Studios, a part of the newly imagined Magic City Innovation District (MCID) in the Little Haiti neighborhood.
Show more >>
Banksy, whose identity is the art world's biggest secret, is an enigmatic artist and world-recognized political activist. His graffiti-influenced stencil technique, often combined with anti-establishment slogans, is immediately recognizable and never fails to generate attention.
The Art of Banksy," curated by Steve Lazarides, the artist's former agent, displays the world's largest collection of Banksy's works and only features pieces that were created by Banksy for private art collectors. The collection offers original paintings, prints, sculptures and rarely seen pieces. Included in the exhibition is the iconic "Balloon Girl" piece, which was ranked in 2017 as "The United Kingdom's number one favorite artwork," the "Flag Wall," an urbanized take on the famous picture of soldiers raising the U.S. flag at Iwo Jima, and many other pieces, no less compelling and equally thought-provoking.
There is no reason why there shouldn't be a Banksy hanging in every single major contemporary art museum in the world. He is the most powerful recognized artist of a generation that's been completely ignored by the establishment thus far. I'm proud that together with the collectors we have been able to assemble this collection now being presented in Miami," says Steve Lazarides.
The Miami exhibit will be mounted in Magic City Studios at 6301 NE 4th Ave, in an area within Little Haiti known as Miami's Magic City Innovation District. This prestigious exhibition of originals – all privately owned by collectors – offers a rare opportunity for South Florida to enter Banksy's world. The 20,000 square foot raw warehouse space was specifically chosen as it resembles spaces where Banksy and Steve Lazarides previously mounted shows together.
Miami, with its thriving visual arts scene, is for us, the perfect city to premiere 'The Art of Banksy' in the US," says Michel Boersma, Senior Vice President Family Entertainment & Theatre, Live Nation. "Together with Steve Lazarides, we have been able to assemble the largest collection of Banksy art ever exhibited, from collectors all over the world, which is fitting for a world-class city like Miami.
We couldn't be any happier to host this incredible show at Magic City," said Tony Cho, an MCID founding partner and CEO of Metro 1, the commercial brokerage leading leasing for the project. "This is one more example of the type of world-class art exhibitions and cultural alignments Magic City will bring to the Little Haiti neighborhood. We're confident this will not only make the neighborhood an international destination, but also create vast opportunities for local businesses and residents.
To celebrate the opening of "The Art of Banksy" in Miami, the exhibition is partnering with the Magic City Innovation District Foundation and local community organizations, to give away 50,000 tickets to local children.
A showcase of this caliber will serve as a unique and accessible educational opportunity for over 50,000 local students," said Miami Mayor Francis Suarez. "It not only speaks to Miami's position as a world-class arts and culture destination, but it will also inject life into Little Haiti, giving our residents the chance to benefit educationally in one of our emerging neighborhoods focused on art and innovation.
Worldwide demand for "The Art of Banksy" is off-the-charts. Consequently, the exhibit is scheduled to be in Miami for a limited time only. Citi is the official pre-sale credit card of "The Art of Banksy" exhibit. As such, Citi cardmembers will have access to purchase pre-sale tickets beginning Tuesday, October 23 at 10AM EST until Friday, October 26 at 10PM EST through Citi's Private Pass program. For complete pre-sale details visit website. General tickets will go on sale beginning Saturday, October 27 at 10:00 a.m. and will be available online at webiste. Tickets prices start at $35.99.
Location
Magic City Studios 6301 NE 4th Ave, Miami, FL 33138 (Map)
Contact Information