Ordinary Americans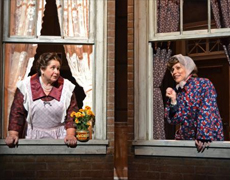 GableStage presents the world premiere of Ordinary Americans, a play by Joseph McDonough based on actual events in the lives of Gertrude Berg and Philip Loeb, stars of television's groundbreaking sitcom, The Goldbergs, which premiered on CBS in 1949.
The Florida productions were co-produced by Palm Beach Dramaworks, where the show ran in December and now it plays at GableStage from Jan. 18 through Feb. 16.
Show more >>
The play is set in the early 1950s and centers on the tribulations faced by Berg and Loeb as they struggle to save their show, their careers, and their friendship in the face of McCarthyism, anti-Semitism, and the political climate of the country. Berg (1899 – 1966) was a seminal figure in American popular culture in the first half of the twentieth century and one of the most significant artists in television history, yet she is largely forgotten today. She was known to millions around the country as Molly Goldberg, a character she created for her 1929 radio show, The Rise of the Goldbergs, which aired first on NBC and later on CBS until 1945 (with a break between 1934 and 1938). In addition to starring as the matriarch of a Jewish family living in the Bronx, Berg wrote almost every script for the radio show and then for the TV series, which ran through 1957 on different networks. She was also the show's producer, and the first recipient of an Emmy Award for Lead Comedy Actress.
Ordinary Americans was developed in The Dramaworkshop, and last January it received a reading at PBD as part of the first New Year/New Plays Festival.
GableStage, Inc.
1200 Anastasia Avenue,
Coral Gables, FL 33134
Location
GableStage 1200 Anastasia Ave #230, Coral Gables, FL 33134 (Map)
Contact Information
305-445-1119
561-514-4042