Remix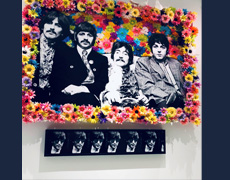 Sagamore Hotel, the independently owned historic boutique hotel, known as "The Art Hotel," will breathe new life into its "Music is Life' exhibition showcasing a wide ensemble of artworks by well-known and emerging, international and local artists that span all media. In a remake aptly named "Remix," the exhibition, which has been inspired and is dedicated to music will be on view 24/7 from September 18, 2019 through November 30, 2019.
Opening Reception: Wednesday, September 18, from 7pm to 10 pm.
Show more >>
Featuring over 100 artworks from all mediums, including sculpture, photography, painting, and mixed media from artists from around the world, each piece on display in the rejuvenated exhibition embodies the significant impact the music industry has on society, culture, and history. "Remix" aims to redefine how music is preserved in the fine art world with inspirational works that emphasize the true beauty and artistry of the industry not always beholden to the eye.
Location
Sagamore Hotel 1671 Collins Avenue, Miami Beach, FL 33139 (Map)
Contact Information
Paulina Naranjo