Beethoven Lives Upstairs
Sunday, Jan 17, 2021 from 3:00 PM to 4:30 PM - English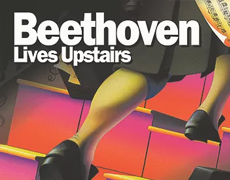 Teach your kids about the life and works of Ludwig van Beethoven in the world-famous production of "Beethoven Lives Upstairs"! A "madman" has moved into the upstairs apartment of Christoph, a young boy who lives in Vienna. Through a series of letters to his Uncle, dramatically underscored with Beethoven's most beautiful excerpts, Christoph slowly comes to understand the genius of the man, the torment of his deafness and the beauty of his music.
The production stars A.J. Ruiz as Uncle, and Melanie Caplan as Christoph, and is performed with Orchestra Miami, Elaine Rinaldi, conductor and directed by David Grabarkewitz.Sunday, Jan. 17, 2021, 3 PM at Pinecrest Gardens, 11000 SW 57 Avenue, Pinecrest, 33156. Watch the show live in person at Pinecrest Gardens, or view it at home via the live stream broadcast.
For complete information & for online Live Stream tickets, please visit our website.
Please note: seating capacity at Pinecrest Gardens is limited to 150 people to ensure everyone's safety. The banyan Bowl is an outdoor venue; masks will be required for entry. Get your ticket today!
Location
Pinecrest Gardens 11000 SW Red Road, Pinecrest, FL 33156 (Map)