A Tribute to Astor Piazzolla
Friday, Jul 9, 2021 at 8:00 PM - English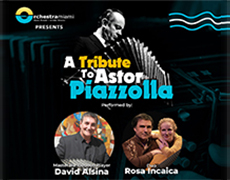 Join Orchestra Miami as we celebrate the 100th birthday of groundbreaking Argentinean composer Astor Piazzolla! On Argentinean Independence Day, Friday, July 9th at 8 PM, join Orchestra Miami as we celebrate one of Argentina's most famous citizens with an all-Piazzolla program at Miami Beach's North Beach Bandshell. Joining the orchestra will be special guests from Buenos Aires, guitar & vocal duo Rosa Incaica, and Bandoneon master David Alsina, conducted by guest conductor Andres Cardenes.
Orchestra Miami's tribute begins with Piazzolla's Libertango, a statement of "nuevo tango" (the name fuses the words "libertad" [liberty] with tango, symbolizing the break from traditional tango to nuevo tango) in an arrangement by Thomas Kalb. Bandoneonista David Alsina joins guitarist Pablo Gonzalez Jazey in the Double Concerto for Bandoneon and Guitar, followed by David Alsina's arrangement of Histoire du Tango, for Bandoneon, Guitar and bass. Following intermission, vocalist Annelise Skovmand joins Pablo Gonzalez Jazey and the orchestra for a selection of Piazzolla's most recognizable tangos. Maestro Andres Cardenes leads Orchestra Miami in this unforgettable evening.
In-person tickets start at just $19 and online livestreaming tickets in high-definition or virtual reality are available starting at just $5!
Location
North Beach Bandshell 7275 Collins Avenue, Miami Beach, FL 33141 (Map)
Contact Information
Elaine Rinaldi
305-672-5202
305-274-2103