"Ellas, las de Gabo" - Conecta: Miami Arts
Aug 13, 2021 & Aug 14, 2021 - at 8:00 PM - Spanish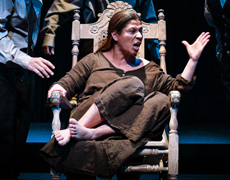 La seleccion de 10 relatos del premio nobel de la literatura, Gabriel Garci­a Marquez (Gabo), que vieron luz entre 1948 y 1954, son el punto de partida y de inspiracion para disenar un espectaculo basado en los personajes femeninos protagonicos de dichos cuentos y en el desarrollo de una puesta en escena llena de sutilezas y una estetica visual inspirada en su inclinacion hacia lo real y lo maravilloso, tecnicas narrativas tan reconocidas en el autor.
"Ellas, las de Gabo", es una fuente sensorial que brinda al espectador un viaje sutil y femenino, un recorrido oni­rico y psicologico alrededor de personajes, que, en su mayori­a, nos abren su subconsciente, sus deseos reprimidos, sus miedos y sus frustraciones eroticas.
10 actrices jovenes impregnan el espacio con la energi­a y la emocionalidad necesaria para adentrarse en un mundo donde el tiempo, el amor, la obsesion y la soledad, sostienen el peso de sus personajes. Dramaturgia de Neher Jacqueline Briceno inspirado en los cuentos de Gabriel Garci­a Marquez. Dirigido por Neher Jacqueline Briceno.
This theatrical performance is part of MDCA IRL: Summer and the Hot Theatre Summer Series.
Location
Miami-Dade County Auditorium 2901 West Flagler St, Miami, FL 33135 (Map)