Guy Harvey's Underwater World Marine Art Exhibit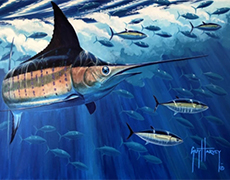 World-renowned artist Dr. Guy Harvey kicks-off month-long exhibit on September 3 with an event open to the public A portion of the proceeds from sales of artwork benefit ocean conservation.
Show more >>
Strikingly beautiful, visually stunning scenes from marine expeditions around the world by renowned artist, conservationist, scientist and entrepreneur Dr. Guy Harvey are featured in a new exhibition on display at the Miami International Fine Arts (MIFA) Gallery in September.
Dr. Harvey is scheduled to attend the exhibition's opening reception on Friday, September 3 from 7 to 10 p.m. Much of the original artwork on display is from Guy Harvey's Underwater World, Dr. Harvey's fifth book and most recently released memoir. Books will be available for purchase and signing. The reception is free and open to the public and no reservation is required. For additional details, visit website or contact Email.
All 60 original art pieces on display, inspired by Dr. Harvey's expeditions in the Caribbean, the Americas and Australia, depict dramatic predator-prey interactions with large ocean fish including marlin, sharks and tunas. All artwork is available for purchase with a portion of the proceeds from sales benefiting ocean conservation research, education and conservation projects in Florida through the Guy Harvey Ocean Foundation.
The MIFA gallery is located at 5900 NW 74th Ave. in Miami, and the Guy Harvey exhibition is open Monday through Friday from 9:30 a.m. to 4:30 p.m. and Saturdays from 9:30 a.m. to 4 p.m. from September 3 through September 30. Special appointments outside of working hours can be made by contacting Email.
Location
Miami International Fine Arts (MIFA) Gallery 5900 NW 74th Ave., Miami, FL 33166 (Map)