The White Card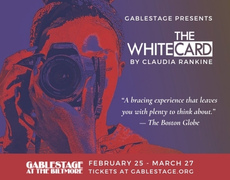 A Florida Premiere!
Award-winning poet/playwright Claudia Rankine's first published play, The White Card, poses the essential question: Can American society progress if whiteness remains invisible?
Composed of two scenes, The White Card is a moving and revelatory distillation of racial divisions as experienced in the white spaces of the living room, the art gallery, the theater, and the imagination itself. Director Lydia Fort directs what the Boston Globe calls, a bracing experience that leaves you with plenty to think about!
"I write to provoke dialogue and to transform how we think about what it means to live and breathe in the world, Claudia Rankine.
Tickets from $35-$65.
Show more >>
Claudia Rankine is the author of five books of poetry, including Citizen: An American Lyric and Don't Let Me Be Lonely; three plays including HELP, which premiered in March 2020 (The Shed, NYC), and The White Card, which premiered in February 2018 (ArtsEmerson/American Repertory Theater) and was published by Graywolf Press in 2019; as well as numerous video collaborations.
Her recent collection of essays, Just Us: An American Conversation, was published by Graywolf Press in 2020. She is also the co-editor of several anthologies including The Racial Imaginary: Writers on Race in the Life of the Mind. In 2016, Rankine co-founded The Racial Imaginary Institute (TRII). Among her numerous awards and honors, Rankine is the recipient of the Bobbitt National Prize for Poetry, the Poets & Writers' Jackson Poetry Prize, and fellowships from the Guggenheim Foundation, the Lannan Foundation, the MacArthur Foundation, United States Artists, and the National Endowment of the Arts. A former Chancellor of the Academy of American Poets, Claudia Rankine will join the NYU Creative Writing Program in Fall 2021. She lives in New Haven, CT.
Location
GableStage at the Biltmore 1200 Anastasia Avenue, Coral Gables, FL 33134 (Map)
Contact Information
305-446-1116