Dominique Bianco
Wednesday, Dec 7, 2022 at 7:30 PM - English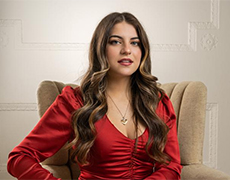 Dominique Bianco "I'm All Smiles" EP Release Tour!
Dominique Bianco - Vocals
Benny Benack - Trumpet
Elijah Jamal Balbed - Sax
Tommy Holladay - Guitar
Knox Barber - Bass
Brendan Brady - Drums
Downbeat Award-winning 21-year-old Dominique Bianco is a multi-faceted vocalist specializing in jazz and contemporary genres. Originally from Staten Island, New York, Dominique was a finalist in the 2022 International Ella Fitzgerald Vocal Competition and has shared the stage with Benny Benack III, Elijah Jamal Balbed, Julius Rodriguez, Joe Farnsworth, Mark Whitfield, Peter Washington, Victor Provost, Alex Brown, Emmet Cohen Trio including Kyle Poole and Russell Hall. Dominique has been mentioned in publications such as Downbeat Magazine, Jazz Times, The Baltimore Sun, WBGO, Capitol Bop, Parklife DC, and Voyage Baltimore Magazine. Dominique's debut EP, recorded at Grammy Award-winning Bias Studios, released in November 2022 and features musicians Benny Benack III (trumpet), Elijah Jamal Balbed (saxophone), and many more.
Location
Keystone Korner Baltimore 1350 Lancaster Street, Baltimore, MD 21231 (Map)