Street Stages: Taking Art to the Streets!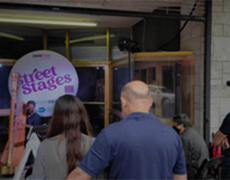 This fall, Olympia Arts MIAMI continues to "take art to the streets" with a new series of Street Stages through December 2022.
FREE community programming in Downtown Miami's historic Flagler District on Thursday and Saturday evenings. Every Thursday and Saturday, from 4:30p to 8:30p, Singer/Songwriters, Jazz/Pop Ensembles, Jugglers, Electronica, Comedians, Opera and Performance Artists are presented on the steps of the Old Post Office at 100 NE 1st Avenue.
Location
Old Post Office 100 NE 1st Avenue, Miami, FL 33131 (Map)
Contact Information
Robert Geitner