Mouse King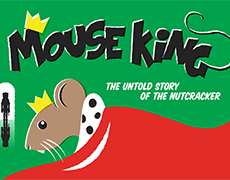 Hailed as a "delightful family show" by The Miami Herald, the scintillating MOUSE KING is set to make its ninth consecutive holiday run at The Mandelstam Theater. Conceived by Sesame Street and Jim Henson Company veteran Noel MacNeal, and the award-winning singer-songwriter and prolific composer of children's musical theater Jim Camacho, MOUSE KING is a spellbinding musical that reimagines the famed story of The Nutcracker as told by the nutcracker's adversaries the mice.
Show more >>
James Wojtal, a master puppeteer who built the puppets for the MOUSE KING, will perform in the show. Wojtal has appeared on Saturday Night Live and Last Week Tonight with John Oliver. Also performing with Wojtal will be veteran puppeteer, Jonathan Carlucci, who has been a cast member of various Sesame Street productions. Both are based in New York City. Add a large ensemble of gifted child actors from the Miami to the show, and you have a scintillating production that promises to deliver an imaginative twist to a long-revered Christmas classic.
Tickets for MOUSE KING are available for purchase on website.
Performance Schedule
December 9 at 7PM
December 10 at 1PM
December 11 at 7PM
December 12 at 1PM
Field Trip Shows
December 8 at 10AM
December 8 at 1PM
Location
The Mandelstam Theater 8530 SW 57th Avenue, Miami, FL 33143 (Map)
Contact Information
Jim Camacho