Discover Miami Through Music at Temple Emanu-El: The Road of Promise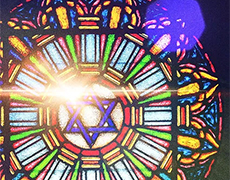 Join Orchestra Miami for a rare opportunity to hear a lost masterpiece! Discover Miami Through Music as Orchestra Miami present's Kurt Weill's rarely-heard oratorio The Road of Promise at Temple Emanu-El on Miami Beach.
Show more >>
Adapted from Weill's mammoth opera, The Eternal Road, by Ed Harsh, The Road of Promise is a piece of living history. Conceived as a method of raising the American public's awareness to Hitler's persecution of the Jews in 1937, The Road of Promise is set in a synagogue where Jews hide as a pogrom rages outside. The story combines Biblical & pre-World War II Jewish history, set to Weill's unique and unforgettable musical language, with influences of cantorial lamentations, classical fugues and showtunes, among other styles. The Road of Promise is a part of Orchestra Miami's Discover Miami Through Music series, which brings appropriately-themed concerts to Miami landmarks and places of historic interest so that we can learn more about our city, and each other, through music. With its impressive & eclectic Byzantine & Moorish architecture and copper dome, Temple Emanu-El is widely considered to be one of the most beautiful synagogues in the US.
The Road of Promise cast features stars from the Metropolitan Opera and a combined choir of over 100 voices. The cast is led by tenor Anthony Dean Griffey in the roles of the Rabbi/Narrator, baritone Mark Delavan in the roles of Abraham / Moses / Jeremiah, and soprano Elizabeth Caballero as Rachel, performing with a large ensemble cast of local professional singers. The performance will be conducted by Orchestra Miami's Artistic Director, Elaine Rinaldi, with stage direction by Vernon Hartman, accompanied by the 48 musicians of Orchestra Miami.
There are two opportunities to catch this "must-see" event: Saturday, Feb. 4, 2023 at 8:00 PM and Sunday, Feb. 5, 2023 at 4 PM.
Tickets are priced from $20-$60 and are reserved seating only. Discounts for seniors and students are available.
For tickets and information, please visit website, or call.
Location
Temple Emanu-El on Miami Beach 1701 Washington Avenue, Miami Beach, FL 33139 (Map)