Anne-Sophie Mutter & Mutter Virtuosi
Wednesday, Feb 1, 2023 at 8:00 PM - English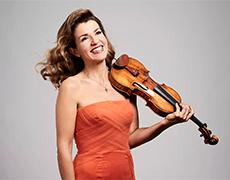 Anne-Sophie Mutter made her recording debut in 1978, when the then 15-year-old violinist joined Herbert von Karajan and the Berlin Philharmonic on Mozart's Violin Concerti Nos. 3 and 5. Many albums, numerous awards and countless standing ovations later, the German-born Mutter is among the most admired and in-demand musicians on the planet. The New York Times calls her "one of the few violinists who can pull off solo recitals in Carnegie's big hall," and Mutter's tours often find her on the world's greatest stages.
Show more >>
A fierce advocate for the future of classical music, Mutter has premiered nearly 30 works by modern composers such as John Williams, André Previn and Unsuk Chin. Claiming her favorite composer is "everyone I play," Mutter is recognized as a master interpreter of Bach, Mendelssohn, Schubert, Bartók and so many others. Her 2022 album, Anne-Sophie Mutter Plays Mozart, features 68 sonatas, concertos for violin and piano.
At her Arsht Center debut, she will appear with the Mutter Virtuosi, an ensemble of young soloists that includes current and former scholarship recipients of the Anne Sophie-Mutter Foundation, which commissions works for emerging musicians to perform on tour. Her Arsht Center recital will feature beloved classics, such as Vivaldi's The Four Seasons, op. 8 as well as a recently discovered work by the Black French composer, violinist and conductor Joseph Bologne, Chevalier de Saint-Georges.
One hour prior to this performance, join us in the Peacock Education Center for Classical Conversations, an exciting, behind-the scenes look at this performance led by Scott Flavin.
Location
Adrienne Arsht Center 1300 Biscayne Blvd, Miami, FL 33132 (Map)